Jesus Christ – revealed in the Old Testament – Tanakh?
Jesus Christ revealed in the Old Testament (Tanakh)?
According to the Bible's New Testament, He lived for 33 years, died on the cross, was resurrected after three days (witnessed by at least 500 people), and then later ascended to Heaven. He offers the gift of salvation (that is eternal life) to anyone who believes in Him. Jesus also promised that He will return unto this world a second time to establish His kingdom and reign for a thousand of years.
💗 I pray that you will have an open mind and heart as you read through the article. 💗
So to be clear, this piece establishes that in the Tanakh,
🔹 the
Old Testament mentions the Son of God
,
🔹 there is a
coming Messiah or Anointed One as per the Old Testament
,
🔹 the
Messiah is the same as the Son of God
,
🔹 the
Son of God came to earth in human form
in His first coming, but
was not recognized
,
🔹 the
Son of God will return in His future Second Coming
🔹 the
Messiah, the Son of God, points to none other than Jesus Christ
– as written accordingly in the Old Testament.
📌 See passages below of Christ's fingerprint in the Old Testament for your perusal:
There you go. We conclude this piece with the statement that Christ is the Messiah, Son of God and is God according to the verses of the Old Testament.
Although Christ is God, the purpose of His coming to earth as a mortal man was to bring salvation to men, who are destined to go to hell due to eternal separation from God because of sin. However, Christ became the perfect sinless offering to cover and atone for the sins of man, that man may come again to the presence of God the Father and have the right to enter Heaven. This salvation is freely offered to everyone, all you need to do is accept Jesus Christ as your personal Lord, God and savior; and repent of your sins, which leads to a changed life that gives glory to Him. And when you accept Him as your Lord, He will send God the Holy Spirit to guide you every step of the way.
So go ahead, don't waste your time and accept Jesus Christ as your own Lord, God and personal savior! It's free and He's waiting for you!
We hope you learned more about Jesus Christ today as most of the discussions about Him are from New Testament passages. Nevertheless, both the new and old testament works in harmony in helping you understand more about God and His word.
Let us know if you have any comments or if you need prayers or would want to know more about Jesus Christ. We will be more than happy to hear out from you! Send us an email and we will answer your queries!
If you need prayers or e-mail counseling, you can contact us here:
christiancentral.org@gmail.com
message prepared by Rock Punzalan
#GodWillNotForgetYou #ChristianCentralOrg #RadicalChristianity #bible #god #love #redeemed #saved #christian #christianity #pray #chosen #jesus #lord #truth #praying #christ #jesuschrist #bible #word #godly #angels #cross #faith #inspiration #jesussaves #worship #holy #holyspirit #praise #spiritualwarfare #jesuslovesyou
DISCLAIMER: ChristianCentral.Net holds no ownership or copyright to any lyrics or music material posted herein. The following lyrics and publicly available Youtube video are the property of their respective owners and artists. This song lyric was posted for archiving and informative purposes only. This website does not host any external photos or videos in this domain. All other media, graphics, layout, design, and materials in this website are copyright and property of ChristianCentral.Net. Please do not hesitate to contact us for any needed correction, clarification, additional information or extra credits. Post a comment below or mail us at [christiancentral.org][@][gmail].[com]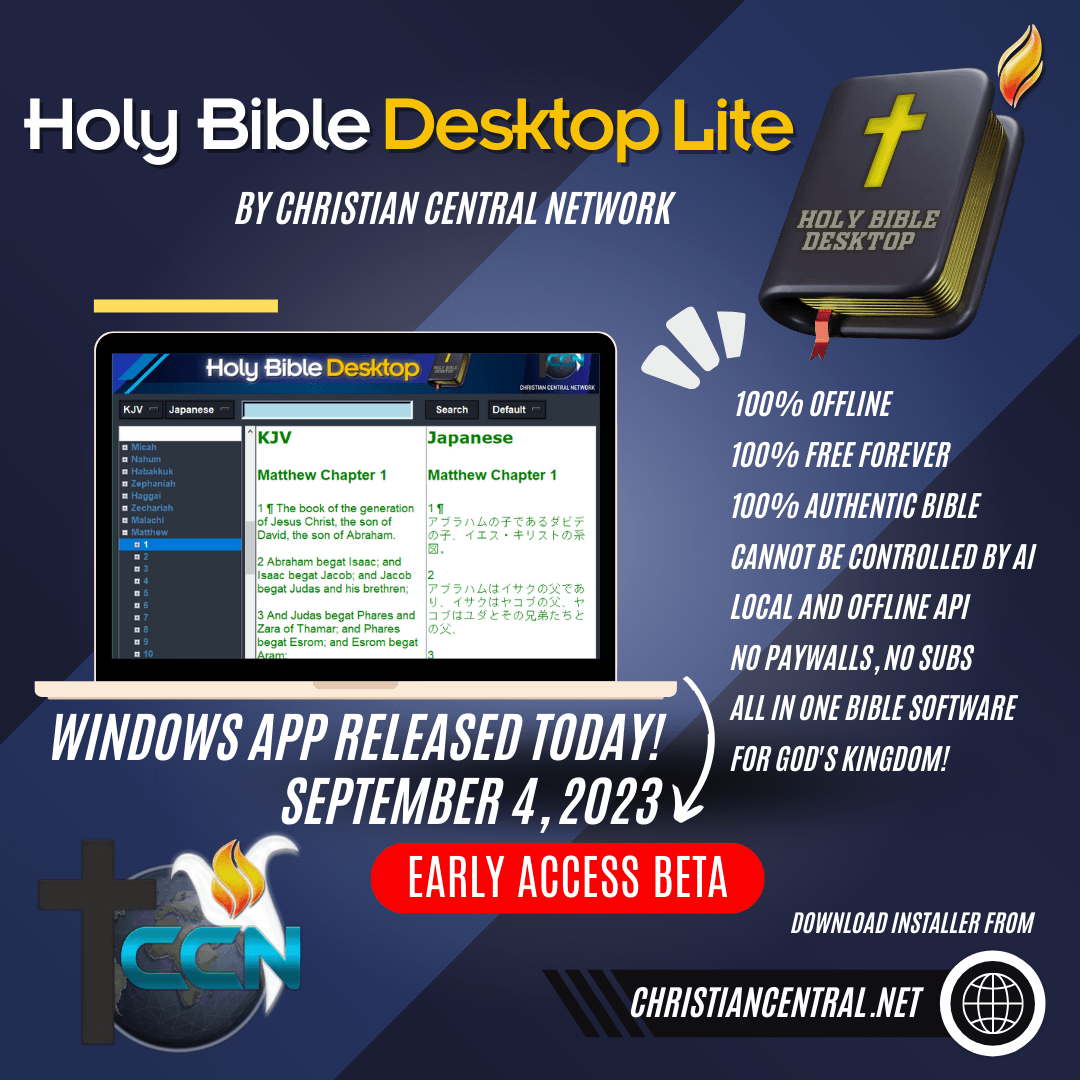 Holy Bible Desktop Lite for Windows released! Our team is delighted to announce the release of Holy Bible Desktop Lite by Christian Central Network, a groundbreaking and entirely free offline Bible software that will revolutionize your scripture read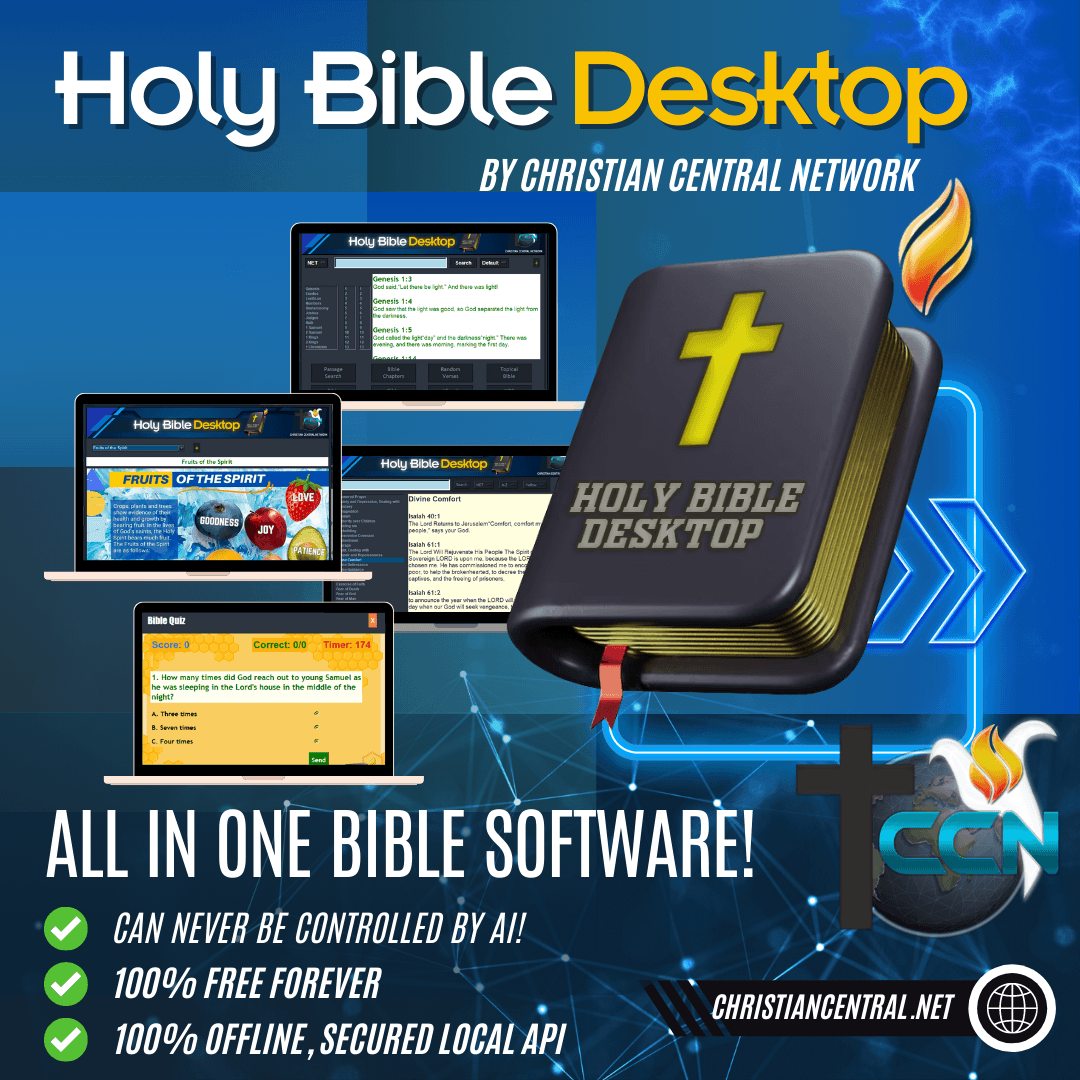 Holy Bible Desktop unveiled: The free Bible that AI cannot control. We are thrilled to announce the coming launch of Holy Bible Desktop, a totally free program designed to revolutionize your Bible study experience, set to be released this August 2